Audley Gordon
Executive Director
Audley Gordon hails from the Parish of Clarendon and is a proud past student of the Edwin Allen Comprehensive High School. He served in the Jamaica Constabulary Force for ten (10) years where he offered stalwart service. He has a love for people and community and served as Councillor within the Kingston and St. Andrew Municipal Council for two terms.
A worker for the Lord, he ministers to the spiritual needs of inmates and wards. For over two decades he worked with Prison Fellowship Jamaica, partnering with the Department of Correctional Services in carrying out ministry to those behind bars. In 2019, he was conferred with the Order of Distinction (OD) in the rank of Officer for service to the nation's prisons.
Audley is an astute businessman who joined the National Solid Waste Management Authority in July 2016 as Chief Technical Officer and assumed the post of Executive Director later that year. He has articulated a clear vision for the transformation of the image of the Authority with accountability and transparency being the key elements.
Andrew McRae
Finance Director
"I don't believe in failure. I believe in working to achieve more, there is always something to get done. My favourite quote is "Work is burning in the field," taken from my alma mater's motto : "Floreat collegium, fervet opus in campis."- May the college flourish, work is burning in the field."
Andrew McRae Chartered Accountant joined the NSWMA family in 2017 as Finance Director
and brings over 25 years' experience in the financial sector. In his role, he oversees all finance
activities of the NSWMA and its regional companies- MPM, SPM, NEPM and WPM.
Mr. McRae is a fellow member of both the Institute of Chartered Accountants of Jamaica (ICAJ)
and the Association of Certified Chartered Accountants in England (ACCA). He is also the
Manager of the track team at his alma mater- Jamaica College.
He holds an ACCA Level 3 certification and is currently pursuing the Certified Financial Analyst
certification.
While he continues to develop a high-functioning and collaborative finance team that adds great
value to the organization, his long-term hope/vision is for an Authority that is properly funded to
execute its mandate.
Gail Mitchell
Legal Director
"Trust in Jehovah with all your heart, and do not rely on your own understanding. In all your ways take notice of him, and he will make your paths straight." Proverbs 3: 5-6
Gail Mitchell joined the NSWMA family in 2017 as Legal Director and brings over 9 years
of litigation experience to the position. She is responsible for guiding and advising the
Authority, and by extension, its regional companies, on all legal matters including drafting of
laws, contract drafting and management.
Mrs. Mitchell is a member of the Jamaica Bar Association and serves on the Family Law
Committee of the Association.
Prior to joining the NSWMA, Mrs. Mitchell worked at the Attorney General's Chambers.
Mrs. Mitchell holds a Legal Certificate from the Norman Manley Law School, a Bachelor of
Arts from the University of West Indies and a Bachelor of Law (LLB) from the University of
Guyana.
Aretha McFarlane
Director of Operations
"I can do all things through Christ which strengthened me." -Philippians 4:13
Aretha McFarlane has been with the Authority since June 2018. As Director of Operations, she
has portfolio responsibility for overseeing garbage collection, transportation, sweeping and other
activities executed through the four regional entities-MPM, NEPM, SPM and WPM.
Ms. McFarlane, a Chartered Accountant and Certified Project Management Professional, is a
member of the Institute of Chartered Accountants of Jamaica (ICAJ).
"Her dream is to see the NSWMA as a substantially transformed authority where everybody
wants to work and no one wants to leave."
Sheenique Johnson
Corporate Services Director
"I am committed to getting people to feel and do things that will lead them to higher heights in their careers and to contribute to the overall success of the Authority."
Sheenique Johnson has been Corporate Services Director at the NSWMA since 2016. She has
primary responsibility for the company's Corporate Planning and Human Resource
Management. Human Resource strategies oversight includes Human Resource
Administration, Employee/Labour Relations, Compensation and Benefits and training and
Development. The Corporate Planning portfolio includes developing medium- and long-term
strategies for the Authority, monitoring departmental performance periodically and producing
performance reports in compliance with the Laws of Jamaica.
Ms. Johnson holds Masters and Bachelor of Science degrees in Public Sector Management
from the University of the West Indies, Mona. She also holds a Post Graduate Diploma in
Human Resource Management from the Management Institute for National Development
(MIND).
Her long-term hope and vision for the NSWMA is to see the organization reclassified and
functioning as a regulatory body; workers receiving fair wage and fringe benefits; and the
implementation of a pension/ retirement fund for all employees.
Mauricia Lawerence
Company Secretary
If you have no confidence in self, you are twice defeated in the race of life. -Marcus Garvey.
Mauricia Lawrence has been the NSWMA's Company Secretary since 2017. She is
responsible for ensuring that the Board complies with its relevant statutory and regulatory
requirements. She also provides support by managing and coordinating the activities of the
Board and its Sub-Committees and serves as the liaison between Management and the Board
of Directors.
Ms. Lawrence is an Attorney-at-Law and holds a B.Sc. in Social Policy and Development
from the University of the West Indies, Mona and a Bachelor of Laws (LLB) from the
University of the West Indies, Cave Hill, Barbados and is a graduate of the Norman Manley
Law School.
Her dream is to see the NSWMA becoming one of the leading public bodies in Jamaica that
attracts and retains talented, bright Jamaicans.
Dominique McKnight
Enforcement and Compliance Director
Education is the passport to the future, for tomorrow belongs to those who prepare for it today. – Malcolm X
Dominique McKnight is the Director for Enforcement, and Commercial Services and has
been with the Authority since 2017. His primary role is to ensure that the NSWM Act and its
associated standards and regulations are upheld in the wider public to safeguard public health.
Commercial revenue generation from waste collection also falls under his portfolio.
Mr. McKnight holds a Diploma in Structural Engineering, a bachelor of Science Degree in
Construction Engineering and Management both from the University of technology, Jamaica
and a Masters in Construction Project Management from the Heriot-Watt University in
Scotland. A Certified Professional Project Manager, Mr. McKnight is a member of the
Project Management Institute, and an affiliate member of the Jamaica Institute of Engineers
(JIE).
He looks forward to seeing the Authority being a full-fledged regulatory body as was
originally envisaged to effectively carry out its mandate in being at the forefront in reforming
the Solid Waste Management sector. He is excited about the soon-to-be enacted solid waste
regulations (public cleansing, disposal sites and e-waste) and also foresees the solid waste
services becoming the "fourth utility" and a revenue stream for government and private sector
where services to the wider public are concerned.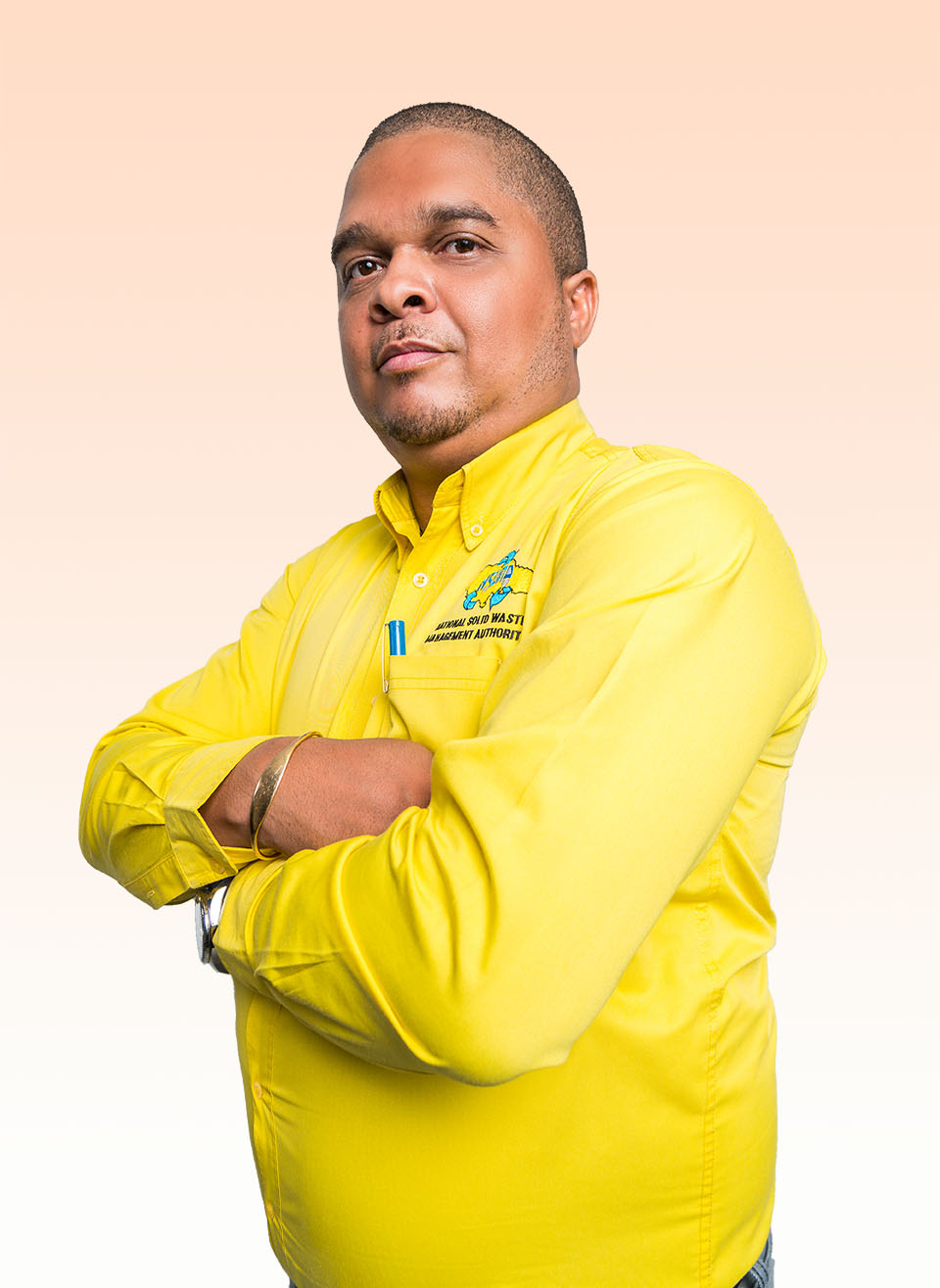 Dave Powell
National Coordinator
"Never allow the tail to wag the dog." – Unknown
As National Co-ordinator (Landfill Director) Dave Powell is responsible for special projects and
all the Authority's eight (8) disposal facilities across the island, while managing waste in an
environmental sound manner.
A past Director of the Board at The Rural Agricultural Development Authority (RADA), Mr.
Powell joined the NSWMA team in 2016. He attended Munro College and holds a Degree in
Mathematics and Economics from the University of the West Indies, Mona and is a Certified
Project Management Professional.
"What keeps me motivated is keeping Jamaica clean and playing my part to ensure that we
mitigate against fires at the disposal facilities so as not to endanger people's lives and health."
Mr. Powell's dream is to see the Authority doing more work as a regulatory body and less
operational functions.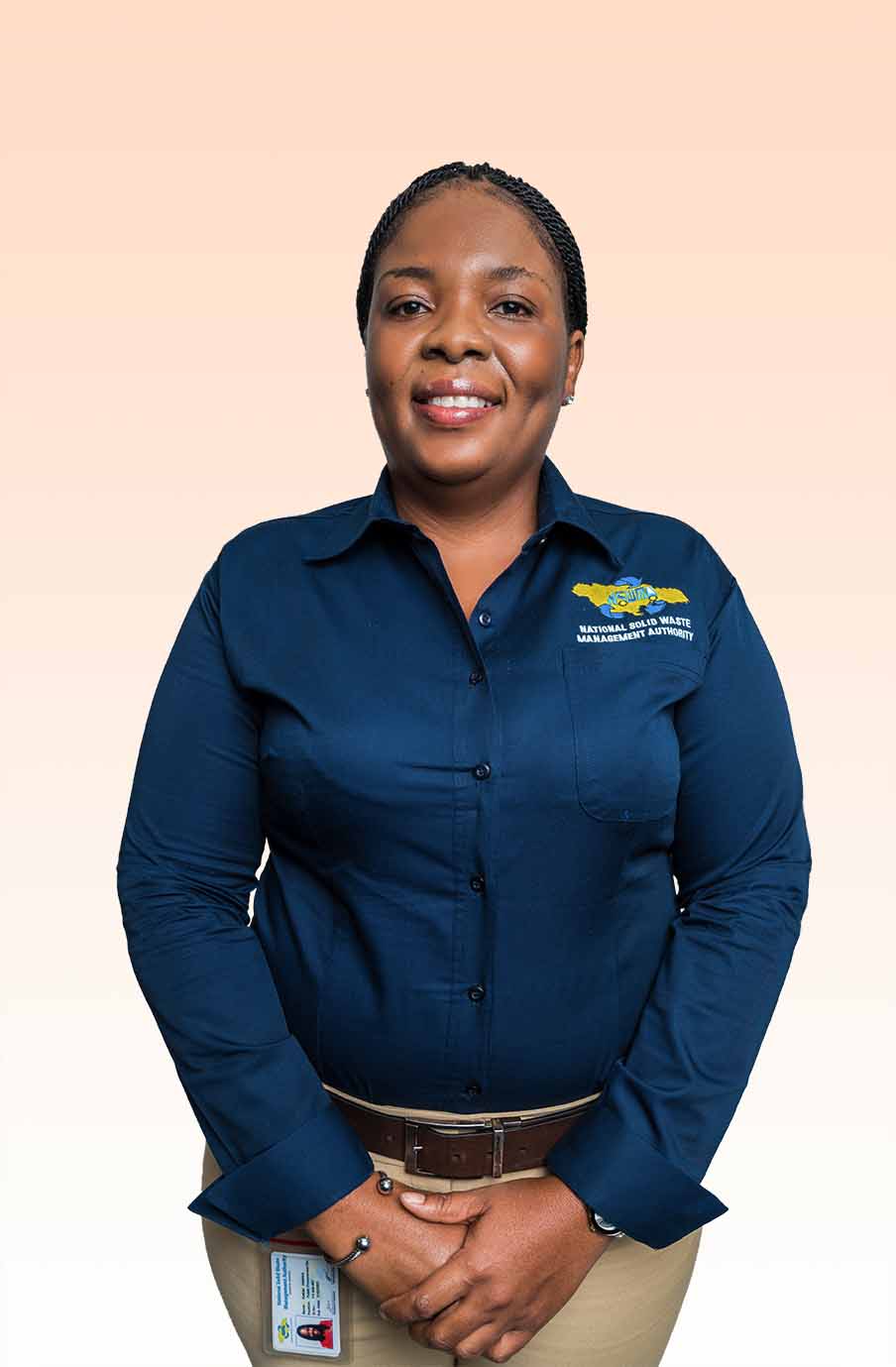 Kadian Diedrick
Director of Public Procurement
"Positive thinking will let you do everything better than negative thinking will" – Zig Ziglar
As Director of Public Procurement, Kadian Diedrick is responsible for ensuring that all
goods/services and works required by the NSWMA and its regional companies are procured
and delivered in accordance with the government of Jamaica's Public Procurement Act of
2015 and Public Procurement Regulations, 2018.
Prior to her current role, Ms. Diedrick, held several key positions within the company,
including National Standards and Safety Manager and Technical Administrator. Her training
includes areas of Public Procurement, Management Studies and Project Management.
Her vision for the NSWMA is that it will become a model agency that people want to work
with and an agency that will champion the cause of its frontline sanitation workers.